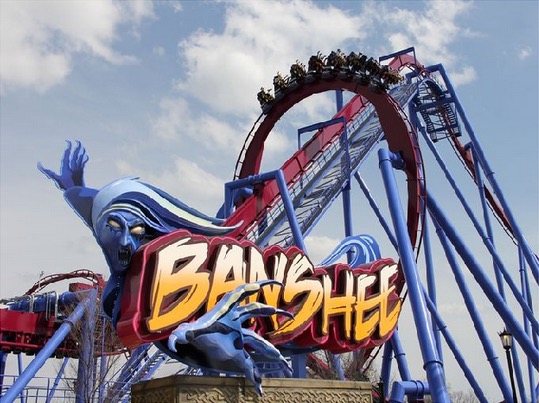 Say Hello to Banshee
Last year, there was a big secret as to what was going to go in Son of Beast's place. It was so secret that only the Cedar Fair executives knew…and boy did they do a great job keeping this from us. Say Hello to Banshee!! This gigantic roller coaster is a huge hit this summer among coaster enthusiasts across the country. Banshee is the world's longest inverted roller coaster and is the first female themed ride in Cedar Fair's history. The track itself is 4,124 feet with seven incredible twisting and turning inversions with speeds up to 68 mph! These cool inversions are as follows: Curved Drop, Dive Loop, looping interacting with the lift, Zero-G-Roll, Batwing, Outside Loop, Spiral, In-Line-Roll, and Carousel.
Bolliger & Mabillard Consulting Engineers is Banshee's designer and is the same company that created the amazing Raptor and the sensational Gatekeeper at Cedar Point. B&M roller coasters are renowned for their smooth ride, comfortable seats and restraints, reliability, low maintenance, impeccable safety record and ride capacity. As of 2013, B&M has more than 80 roller coasters operating worldwide. Banshee is Kings Island's second B&M roller coaster as Diamondback is the first.
I personally have not been to Kings Island since 1999-2000 with my family. I know a lot has changed since then. When I was there, Son of Beast was being built and never got to ride it. I am happy that I didn't after hearing about all of the issues it experienced. Now there is a much more suitable ride in its place and I cannot wait to try Banshee out when I go. If you are ever in the Cincinnati area, be sure to get to Kings Island and ride this new BEAST!!