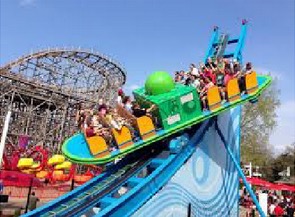 New Rides at Cedar Point This Year
Are you excited about the new rides at Cedar Point this year?! I know many families personally that are pumped about them. One is Pipe Scream, a 36 passenger car along a 302 feet track. This ride spins and dips at 43 mph that reaches heights at around 40 ft in the air. This is a ride that you can try after riding Magnum XL-200 and Gemini which are in the Midway area of the park.
Another new ride that you can go on this summer is Lake Erie Eagles, a classic flying ride, with eight two-person cars that glide 28 feet above the midway. Riders can maneuver the cars up and down with a center handle. It is the perfect ride for families! This one reminds me of rides like the tarantula, scrambler, and small cars that I used to love riding as a child. This ride is also located in the Midway area around Gemini and Magnum.